The care of your birds throughout their growing period is essential for success at the fair. Make sure that you have entered in the correct class. Be sure to ask your leader and explain the intent and goals of your project.
Be knowledgeable of the practices that you used in raising your range fed broilers. Even if your fair does not have a separate class for range fed broilers, explain to your judge the differences between your birds and the white hybrid broilers. Be prepared to support your raising techniques with the financial data that proves your ability to be profitable and produce a more flavorful product.
Wash and groom your birds as you would any show bird. Oil the comb, wattles, feet and legs so that they are bright and attractive. Young, range fed chickens will not likely have external parasites, but check them to make sure.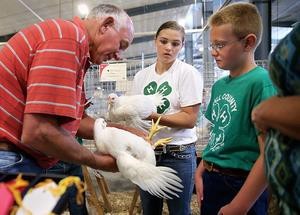 During judging, stay alert and listen to instructions. Keep your eyes on the judge and smile during the evaluation of your birds. Stay relaxed in spite of the stress of the show and the heat of the day.
Determine the appropriate attire for your fair on show day. You need to look presentable and comfortable when handling your birds in front of the judge.
Always compete in the showmanship and demonstration competitions to demonstrate the knowledge you have gained in raising range fed broilers and to promote your birds.
Keep your display clean and neat! Good herdsmanship at fair will show the public your outstanding work. Most of all, have fun!
Judging Meat Chickens
The criterion used for judging meat chickens is based on USDA Standards for Grading Poultry and animal husbandry practices. The same basic criterion applies to white hybrid broilers as range fed broilers.
Disqualifications
These factors would prevent the bird from being slaughtered for food purposes – automatic pink ribbon
Crippled-unable to stand and move normally, blind, crooked breast bone, breast blisters, broken bones, skin cuts, bruised flesh, illness and parasites (removed from the showroom by superintendant), absence of fleshing and finish (fat), objectionable dirt, staining and filth.
Properly fitted and groomed meat chickens are raised in immaculately clean conditions and are bathed prior to the show with oil applied to the combs, wattles, feet and legs prior to judging. Beef, sheep, swine and dairy project members are very aware of this fact.
Desirable Market Factors
Age and Weight (20 pts.)
Most fairs establish the desirable weight White hybrid broilers are 37-49 days old – >3.5 lbs. <6 lbs.
Range fed broilers are – >3.5 lbs. <6 lbs. 11-13 weeks old
County fair projects typical give more range of weight and age than the industry standard allows because of the wide number of uncontrollable factors for youth projects such as climatic conditions, date of delivery of chicks and population density.
Broilers should exhibit ―youthfulness determined by appearance and the lack of molting of juvenile primary flight feathers. Chickens have 10 primary flight feathers. The juvenile feathers are pointed at the ends. Molting typically begins at 42 days and continues with 2-3 feathers per week until all 10 have been replaced with adult feathers. Birds that are slaughtered prior to molting primary flight feathers produce the greatest amount of meat per pound of feed consumed.
Conformation (20 pts)
Like all animals, meat chickens should be structurally sound. They need to walk on a proper set of feet and legs and move freely and easily. Obvious extremes in body shape and structure are undesirable and lack ―eye appeal.
Fleshing (20 points)
The amount of muscling is determined by feeling the width of the breast and back particularly over the loin region. The breast meat is the most valuable cut of meat on the meat chicken because it yields ―white meat which commands the highest market price. The width of the loin is an indicator of muscling throughout the carcass much like the loin eye area of a beef steer or market hog. The thickness of bone also indicates muscling due to the fact that the more muscling an animal has the larger the bone must be to hold the muscle. Excessive bone is not desirable because of decreased dressing percentage. Range fed broilers will have longer legs than white hybrid broilers.
Finish (20 points)
Fat provides flavor and tenderness to meat. Adequate fat is desirable, yet excessive fat reduces feed efficiency, overall yield and dressing percentage. Pullets tend to fatten faster than cockerels due to the effects of the sex hormones estrogen and testosterone. Industry producers typically sex broiler chicks at day-old and separate them, providing specific rations for each, reducing concern for excessive fat.
General appearance (20 points)
As in other meat animal species, female chickens tend to offer more ―eye appeal than males because estrogen causes a ―rounder body structure, thus a ―meatier and ―youthful appearance in the live animal. Therefore, project members are encouraged to raise pullets as broilers rather than cockerels (unless the classes are for single males and single females). Pullet chicks are generally 10-12 cents cheaper than cockerel chicks as well.
Desirable Market Factors
Matching pairs or pen (10 Points)
Like other meat animals, broilers and sometimes roasters are shown in pairs. This exhibit is intended to determine if the exhibitor understands the basic principles of meat chickens. Pairs are intended to be matched as closely as possible. This means that they should appear as ―peas in a pod.
A pair or pen exhibit simulates the industry's need for uniformity in birds that ultimately produce a uniform product that the consumer demands. The industry has uniform methods of processing millions of broilers and the consumer demands that each broiler or cut of meat purchased be identical to the previous.
The most confusing part of matching pairs of animals is the fact that a meat animal pairs or pens are the same sex! This exhibit should be either two (three) cockerels or two (three) pullets. Colored range fed broilers should be matched for color, but this is a very insignificant factor.
They should be nearly the same weight, have similar body structure, fleshing and finish. Matching a pair may be difficult when only a small number of birds are being raised. If one of the birds shows a disqualification or serious defect, both will be judged as a pink ribbon winner.
Processing Meat Chickens
There are many good sources information on slaughtering and processing meat chickens. Read the information carefully. Ask questions of those who are experienced and perhaps set up a time with your project leaders to cooperatively process birds with other project members.
Make sure you review and follow state laws before marketing your birds.
There are a number of custom slaughter plants that will process meat chickens, inspecting them for wholesomeness, making them available for commercial sales.
Promote your birds and market them so that you maximize the return on your project.
Keeping Record
Your 4-H or FFA record books will help you to keep track of your poultry income, expenses and profits. Along with quality photos of yourself performing tasks and developing skills in your range fed chicken project you will be able to apply for achievement and proficiency awards.